Deep dive on gender diversity metrics at AlbionVC
Deep dive on diversity metrics for our team, investment process and companies backed
The case for diversity leading to better outcomes has long been made. At AlbionVC, we foster a culture that welcomes everyone and have been very intentional about diversity and inclusion initiatives in recent years within our business and for our companies.
We are fully aware that diversity extends far beyond gender and that inclusion is a key part to make diversity initiatives succeed in the long term. But in celebration of International Women's Day 2023, we want to spotlight our gender statistics. No doubt the road to improving the status quo is long, but this post serves to keep us accountable and to continue the progress.
1. Gender diversity at AlbionVC team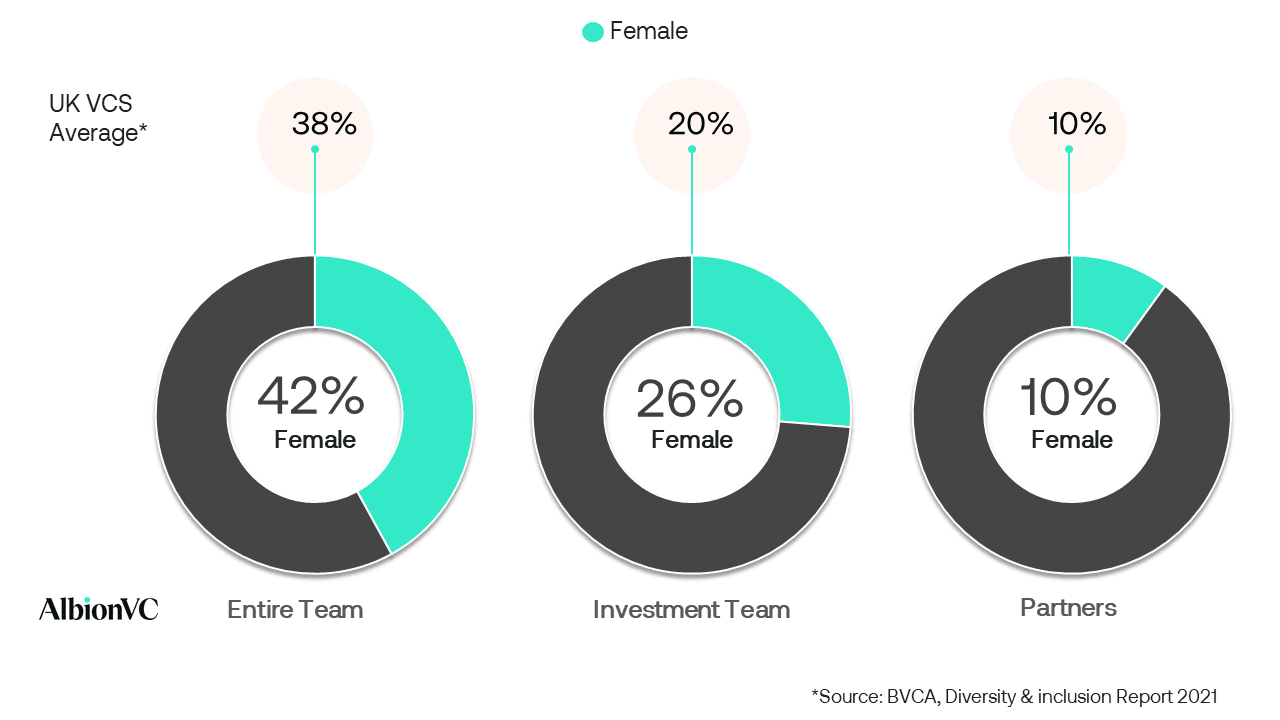 While women at AlbionVC are still a minority across all teams, our gender split is above UK VC industry average, especially when it comes to investment team roles (BVCA, Diversity & Inclusion Report 2021). We are committed to continued improvement over the long-term and have been very intentional about improving diversity across all roles within the company. In 2022, 75% of team members hired by us were all female.
At the board level, 40% of our board directors across the 6 venture capital trusts are female.
Intentionally building new processes
We have partnered with Fair HQ, a D&I consultancy, to establish diversity and inclusion practices and policies and track progress on an annual basis. Part of the process includes an annual employee "belonging survey". Since 2021 we've implemented a number of new initiatives: on recruitment, diversity in the hiring funnel is closely monitored and our process was revamped to incorporate blind CVs. Furthermore, we work with recruitment consultants to improve the diversity of our pool of candidates. Our commitment to diversity is made public via a Diversity Statement on our website. Encouragingly our Fair HQ score has jumped from 3.8 (in 2021) out of 10 to 6.1 for 2022. In 2023 we are focusing on new initiatives to improve across all aspects of diversity, equity and inclusion.
Fair HQ score


2. Gender diversity in portfolio companies
We believe in partnering with the best founders, regardless of their gender, age, ethnicity, socio economic background. Today 7 out of 42 companies are led by women CEOs, equivalent to 16.7%.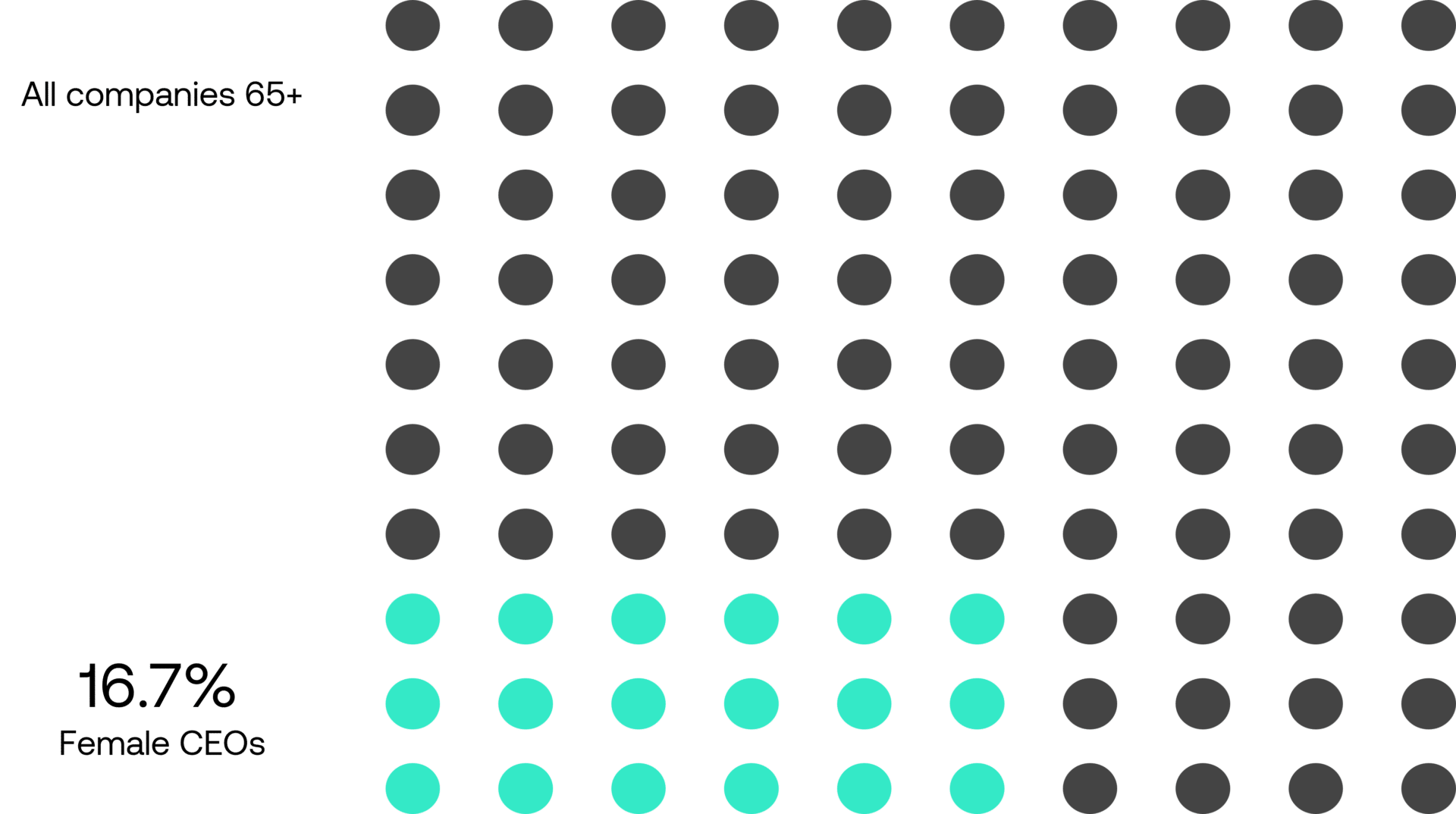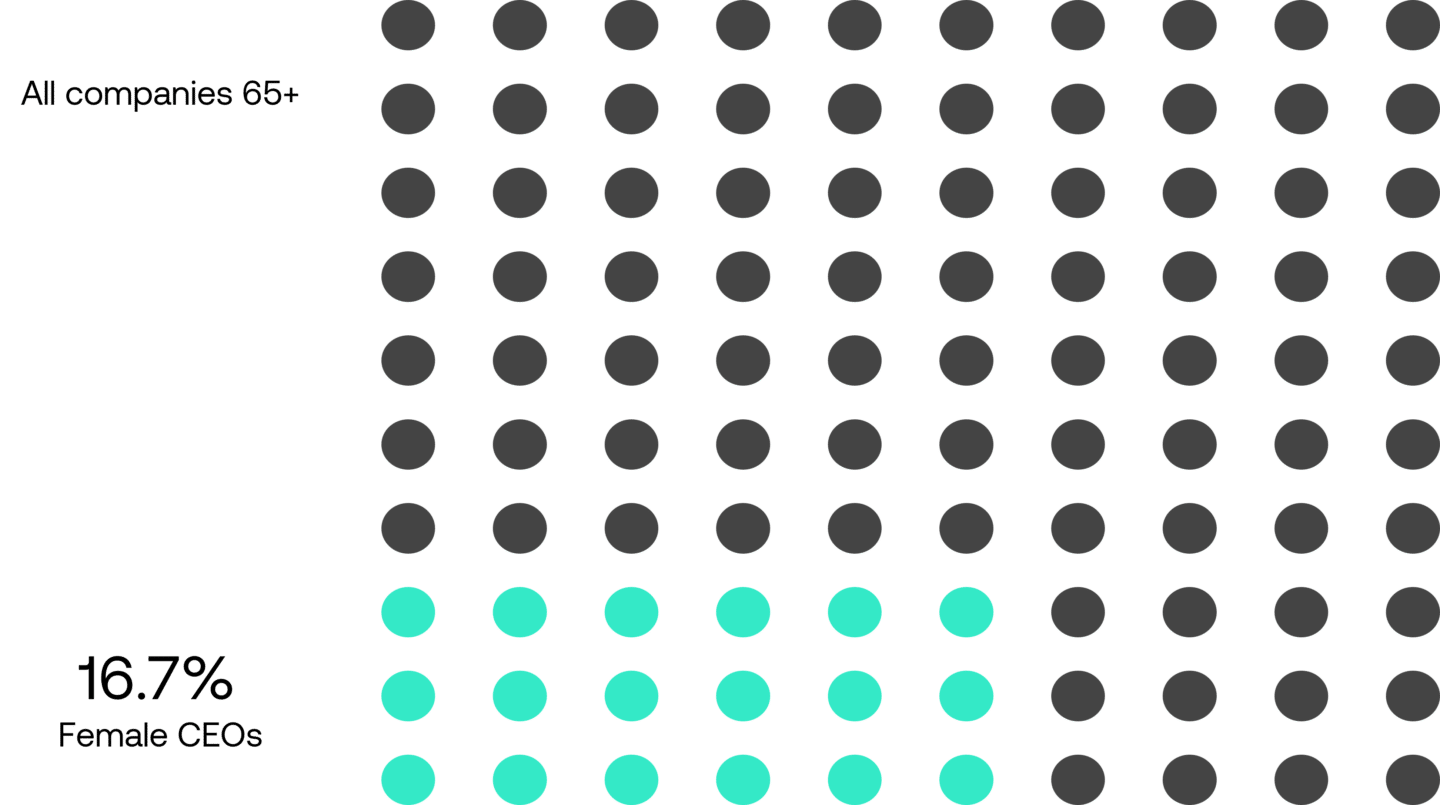 This number jumps to 26% if we include co-founders as well as CEOs. By stark contrast, data collated by PitchBook revealed that in 2022 companies founded solely by women garnered just 0.9% of the total capital invested in venture-backed start-ups in Europe. When examining the UK landscape specifically, the British Business Bank's Small Business Equity Tracker 2022 estimates venture funding to all female-led businesses at around 6%.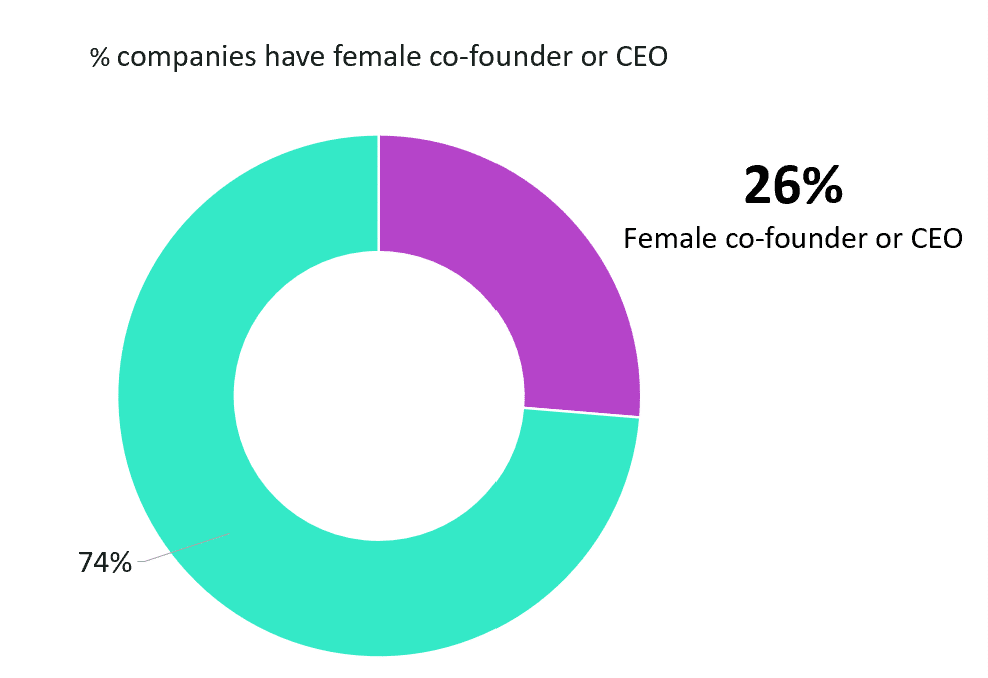 From the 2022 ESG analysis of our companies we know that across all team levels more women are employed than men. However this representation doesn't carry through to the senior management level, with only 29% women in senior positions (this is near par with the industry trend of 31% (Women in business 2021 | Grant Thornton insights).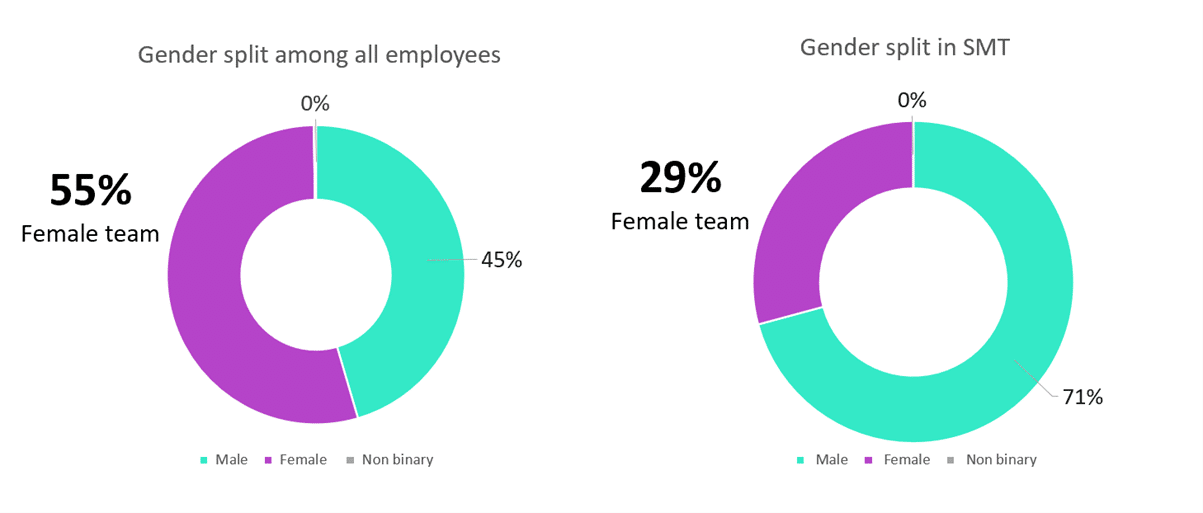 Interestingly, when looking at the measures that companies use to increase diversity in hiring practices, blinding CVs was found to be an effective method used by most of our companies that have over 30% female senior management representation. We will be diving further into this as part of our impact report which is coming out shortly.
3. Embedding D&I into our process
Our diversity and inclusion commitment are integrated throughout the investment process, following three steps:
Sourcing: We operate an open pitch deck to apply for funding via our website and apply D&I lens during deal sourcing. We engage with partners such as female-focused funds and angels to increase the diversity of our deal flow. We build our presence by taking part in female founder office hours and mentoring for female and ethnic minority programmes. Last year we hosted multiple workshops on female leadership and empowerment for various ecosystem partners.
Engagement: Our companies work with the Platform team to increase diversity across their businesses. We set a 50% target for underrepresented groups when leading game changer hiring for our companies. We also recognise that diverse founders face unique challenges in the startup world so make a point of highlighting role models in our current portfolio through 'Women in Leadership' series and 'Founder Stories' (thank you to all our founders and co-founders for taking the time to share their stories).
Tracking: Deal diversity metrics are tracked in Affinity and regularly reviewed. They are embedded in our OKR process. Decisions are then made on actions to improve top of funnel metrics.
As a signatory of 'Investing in Women Code' we track diversity in the pitch decks received:
Very top of the funnel data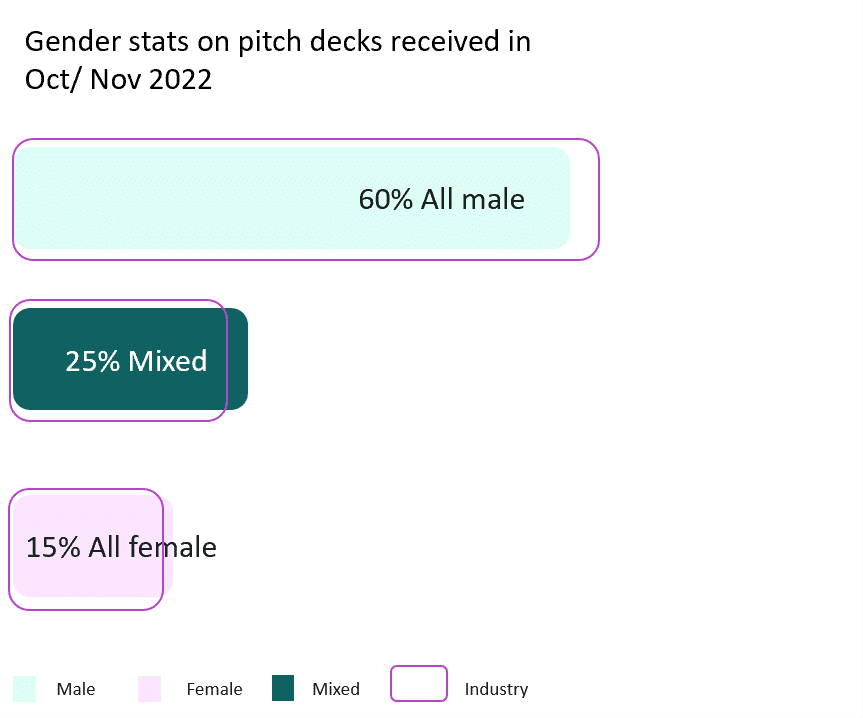 Pitch decks received by AlbionVC in 2022 are slightly above the industry data as measured by the BVCA and BBB 2022 report (industry data: all male 64%, 23% mixed, 12 all female).
Screening stage data from our Affinity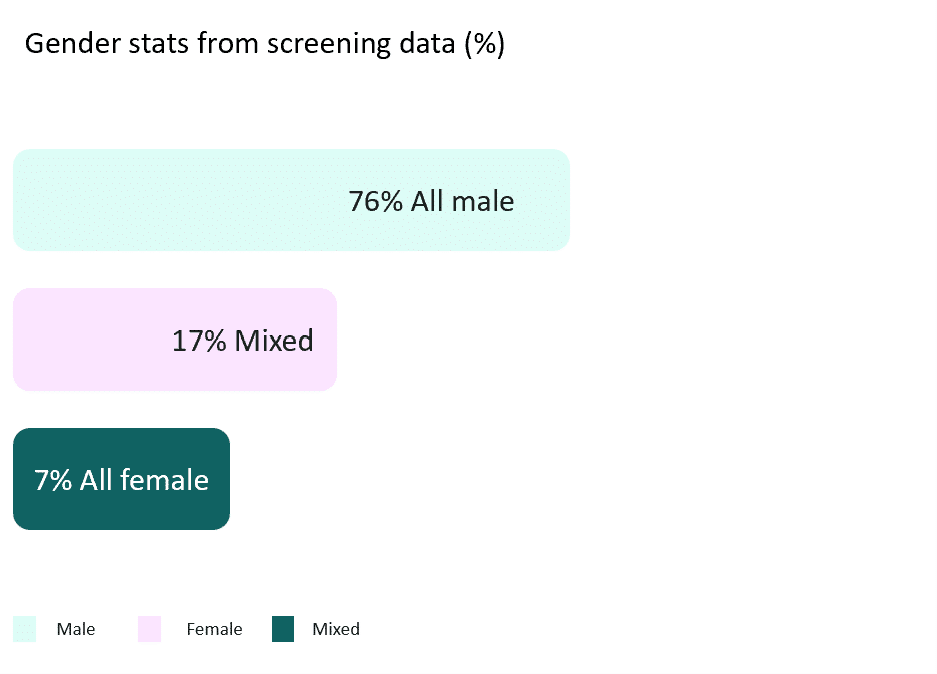 Fewer companies led by all female and mixed gender teams make it further down the investment process.
In 2022 according to the Atomico State of European Tech Report ' 87% of all VC funding in Europe is still raised by men-only founding teams, while the proportion of funding raised by women-only teams has dropped from 3% to 1% since 2018.'
At AlbionVC we made 15 new investments in 2022, only one with a female CEO.
We're only getting started
We truly believe that venture capital firms hold a significant role to drive gender diversity from an early stage. At AlbionVC, we hold ourselves accountable by setting objectives and tracking progress. It also means being transparent about our efforts and sharing successes and failures with the broader community.
Despite our intentional efforts we are not satisfied with the progress made to date. While there are brilliant initiatives already out there, we believe it is time for a new approach in the ecosystem to get more women leading the next generation of B2B software giants.
We are working on something in the background.
More details to come soon.