Why we invested in NuvoAir
Perspective, by AlbionVC
The Covid-19 pandemic provides a unique opportunity to reshape healthcare delivery as we know it. As health systems were forced to deliver care remotely, the pandemic has caused a seismic shift in approaches to using technology to create a patient-centred healthcare experience.
The pandemic hit us against a backdrop of increasing acceptance of telemedicine and the proliferation of cheap, accurate connected devices. And Covid-19 accelerated adoption of these trends. For example, telemedicine consultations increased by 2.5x and are likely to remain the dominant form of care delivery as patients become accustomed to the convenience. Mass adoption of connected devices and wearables as they became cheaper, and their improving accuracy for use in clinical care, made it easier than expected for health systems to transition care to the home setting during lockdowns.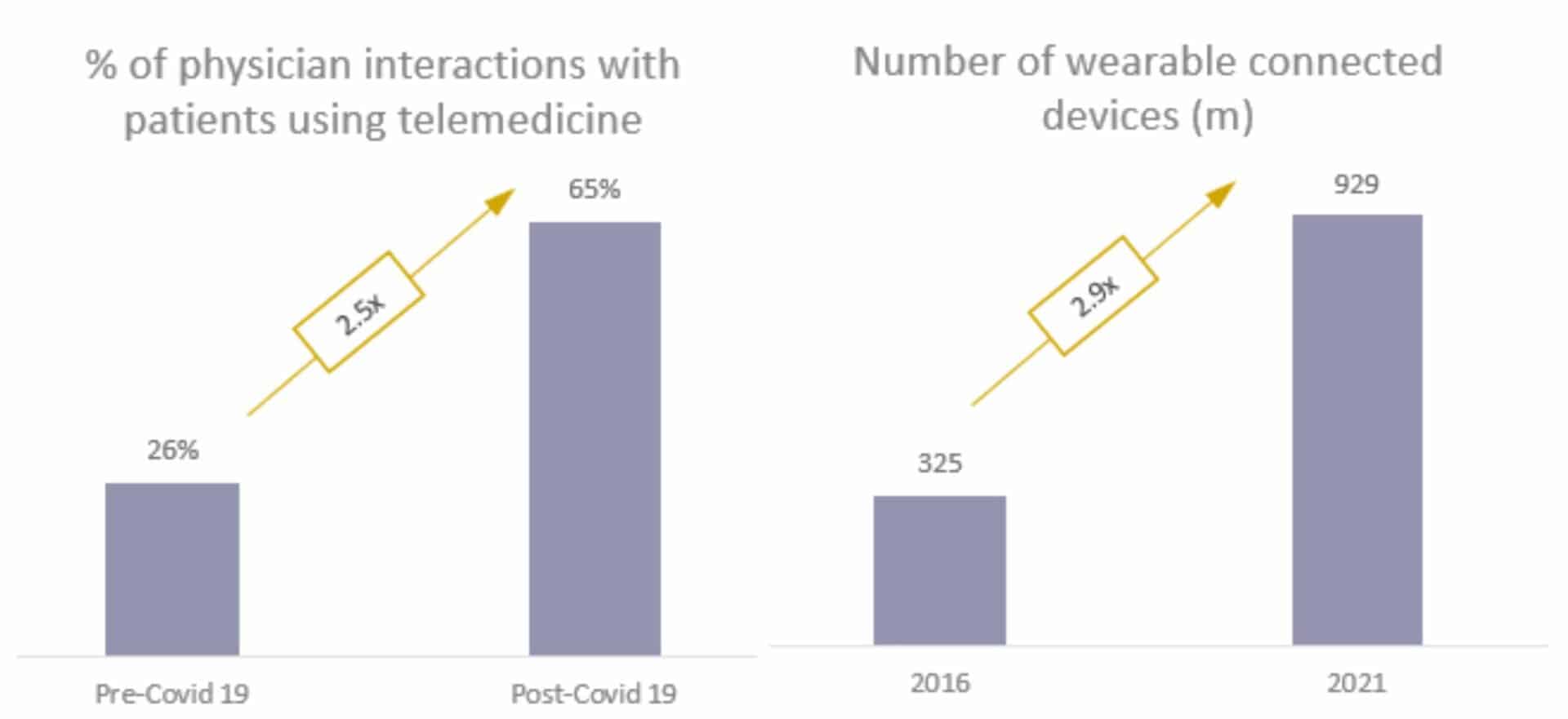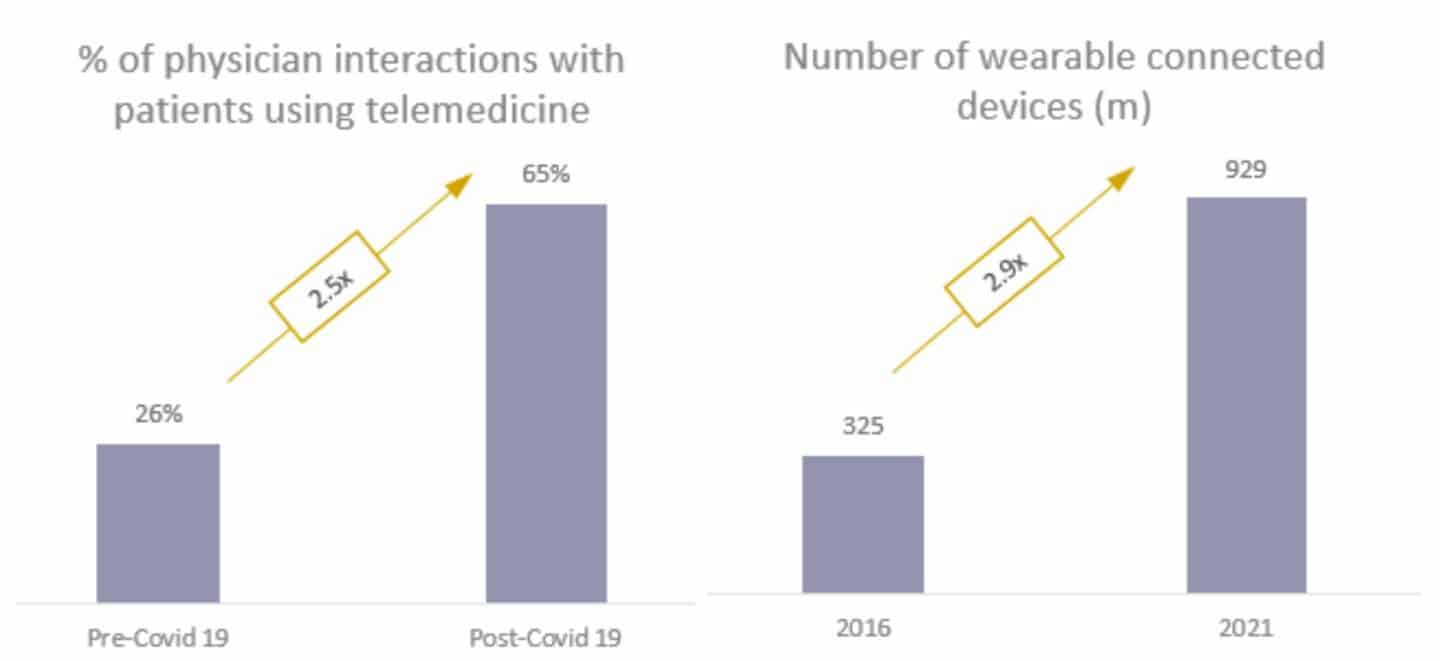 Covid-19 accelerated emerging trends in healthcare delivery — the rise of telemedicine and the proliferation of cheap, accurate connected devices
Given these technological changes and the unique lessons learned from remote care delivered during Covid-19, can we finally make the healthcare experience convenient, delightful, and personalised to the patient? At AlbionVC, we believe the secular trend towards tech-enabled, patient-centric healthcare is inexorable — and that's why we've invested in NuvoAir.
NuvoAir is a digital health company on a mission to improve the lives of millions of people suffering from lung conditions. Respiratory conditions such as asthma, chronic obstructive pulmonary disease (COPD), cystic fibrosis, idiopathic pulmonary fibrosis (IPF) and neuromuscular disease affect 580 million respiratory patients that need lifelong therapy. These conditions cost health systems $320 billion annually. High costs are driven by poor monitoring of the condition and poor patient compliance, which results in exacerbation events (like a severe asthma attack) and hospitalisations.
NuvoAir's platform enables patients and doctors to remotely manage lung conditions through a suite of connected devices (spirometers, inhaler sensors, pulse oximetry and nighttime cough listening), an integrated patient app, clinician software and a wrap-around clinical service for improved outcomes at a lower cost. From this platform, doctors and patients can monitor clinically relevant data, identify important changes in health and behavior in real time, get data-driven insights into the effectiveness of medication, and help patients better manage their condition themselves. NuvoAir is currently managing >5,000 patients across the UK, US and Europe and is supporting thousands more patients across 20 countries in over 30 decentralised and hybrid clinical trials in the respiratory space.
Like other areas of healthcare, respiratory care is characterised by structural problems that result in ineffective treatment, high costs and poor patient experience, namely:
chronic conditions are handled with an acute event-centric approach rather than through ongoing care and monitoring
treatment is reactive rather than preventative
treatment is clinic-centric rather than patient-centric and accessible
data is not collected or utilised well
NuvoAir's digital, remote-first, patient-centric and data-driven platform addresses these structural issues head-on.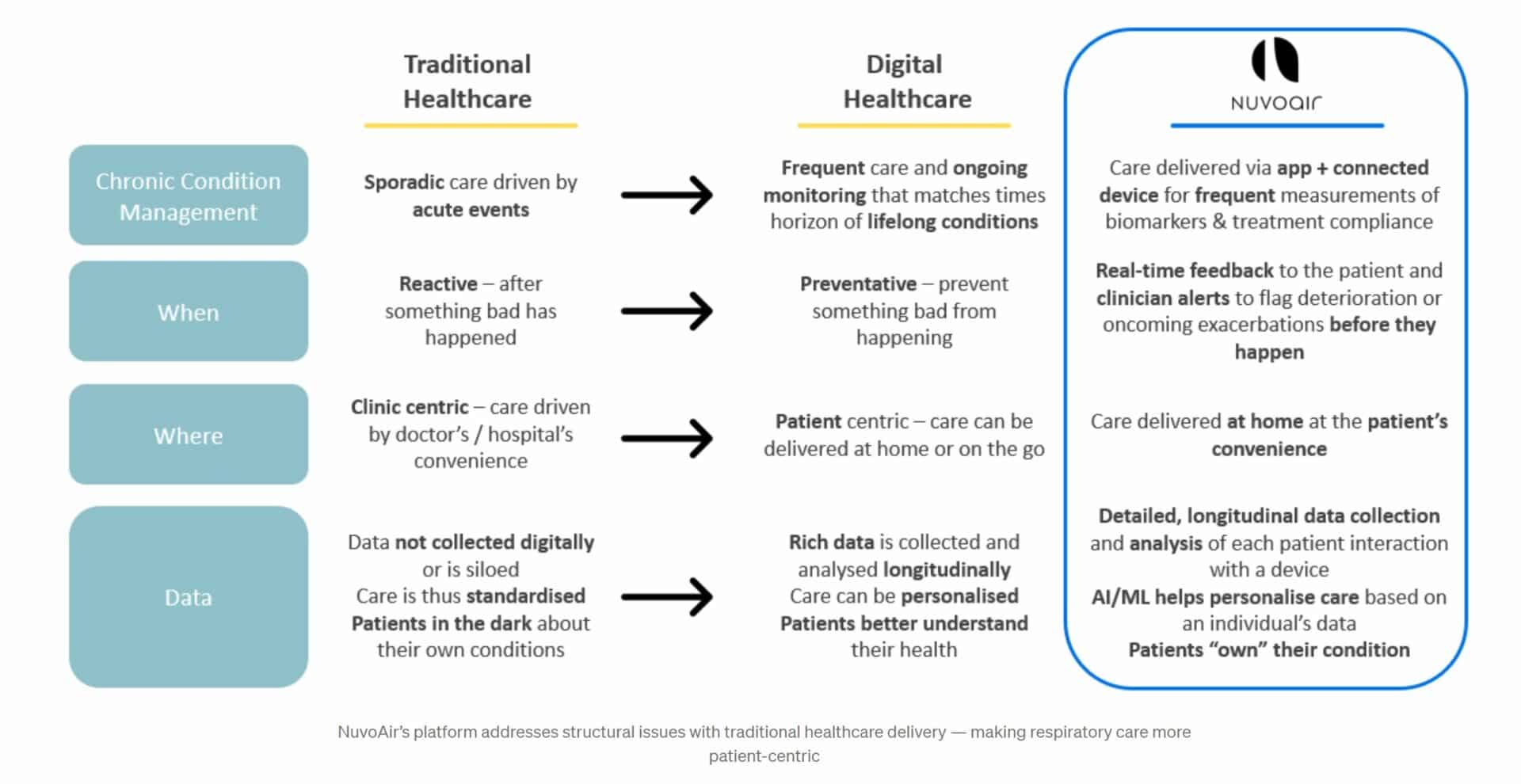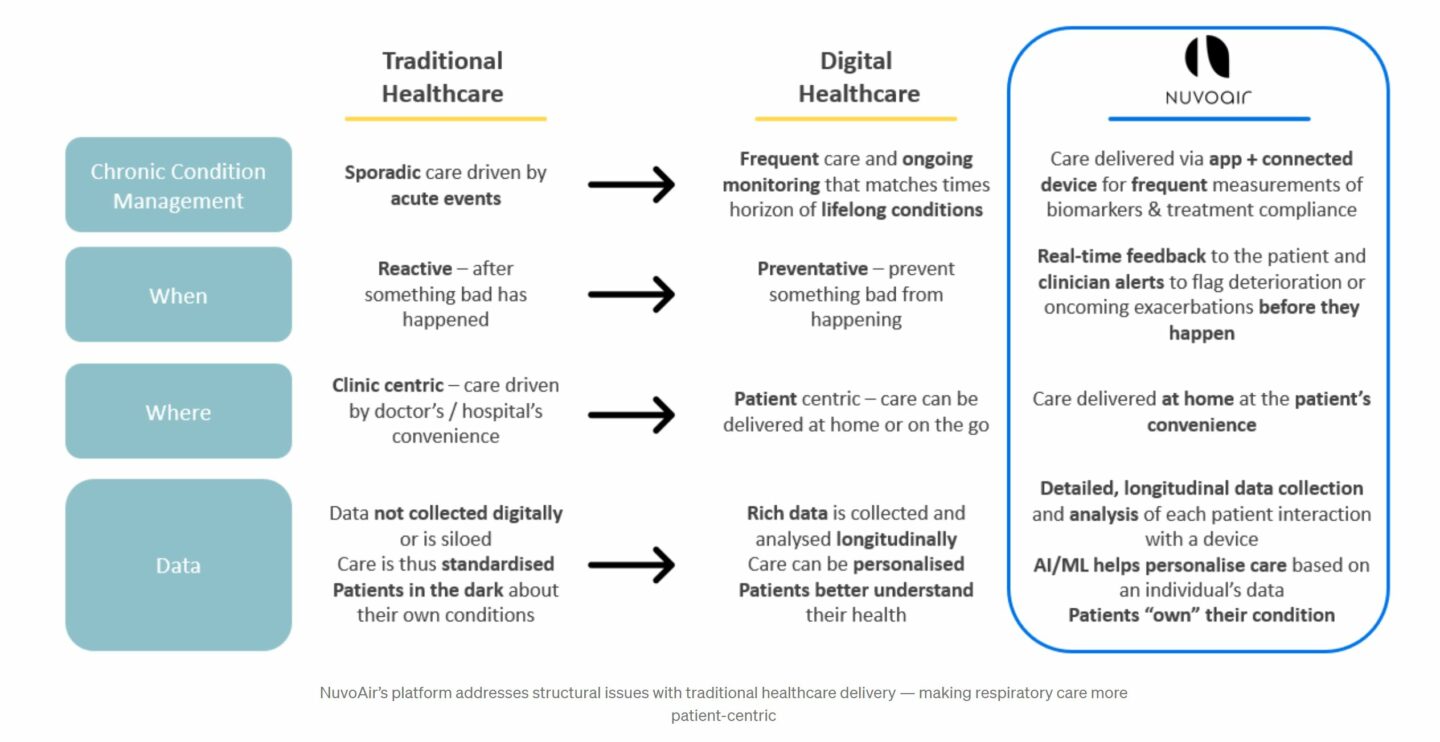 NuvoAir's platform addresses structural issues with traditional healthcare delivery — making respiratory care more patient-centric
We believe NuvoAir is special because respiratory medicine has remained relatively undisrupted by digital players in comparison to mental health, diabetes management, and musculoskeletal health. It is a "blue ocean" for NuvoAir's digital-first clinical service.


Billions in value have been created by building specialty-focused digital healthcare companies. NuvoAir is the leading digital player in the respiratory disease vertical
And, importantly, in a world of commoditising telemedicine and hardware, we believe value will migrate to specialty-specific, vertically integrated, holistic platforms tackling large patient populations like NuvoAir's.
In this context, delightful patient experience is central to a successful digital health approach. The last 5 years have seen an increasing consumersiation of healthcare driven by higher out-of-pocket costs (with average deductibles doubling), rising consumer expectations, and tech-enabled new entrants. Value will sit with players that deliver a consumer-quality patient experience. To this end, NuvoAir's platform is a "full stack" approach integrating beautiful connected devices and software and a seamless clinical service. NuvoAir differentiates by being the most modern and patient-friendly experience with an NPS of >75 vs the healthcare average of 38. And they have 95%+ retention rates — amongst the highest in the digital health industry.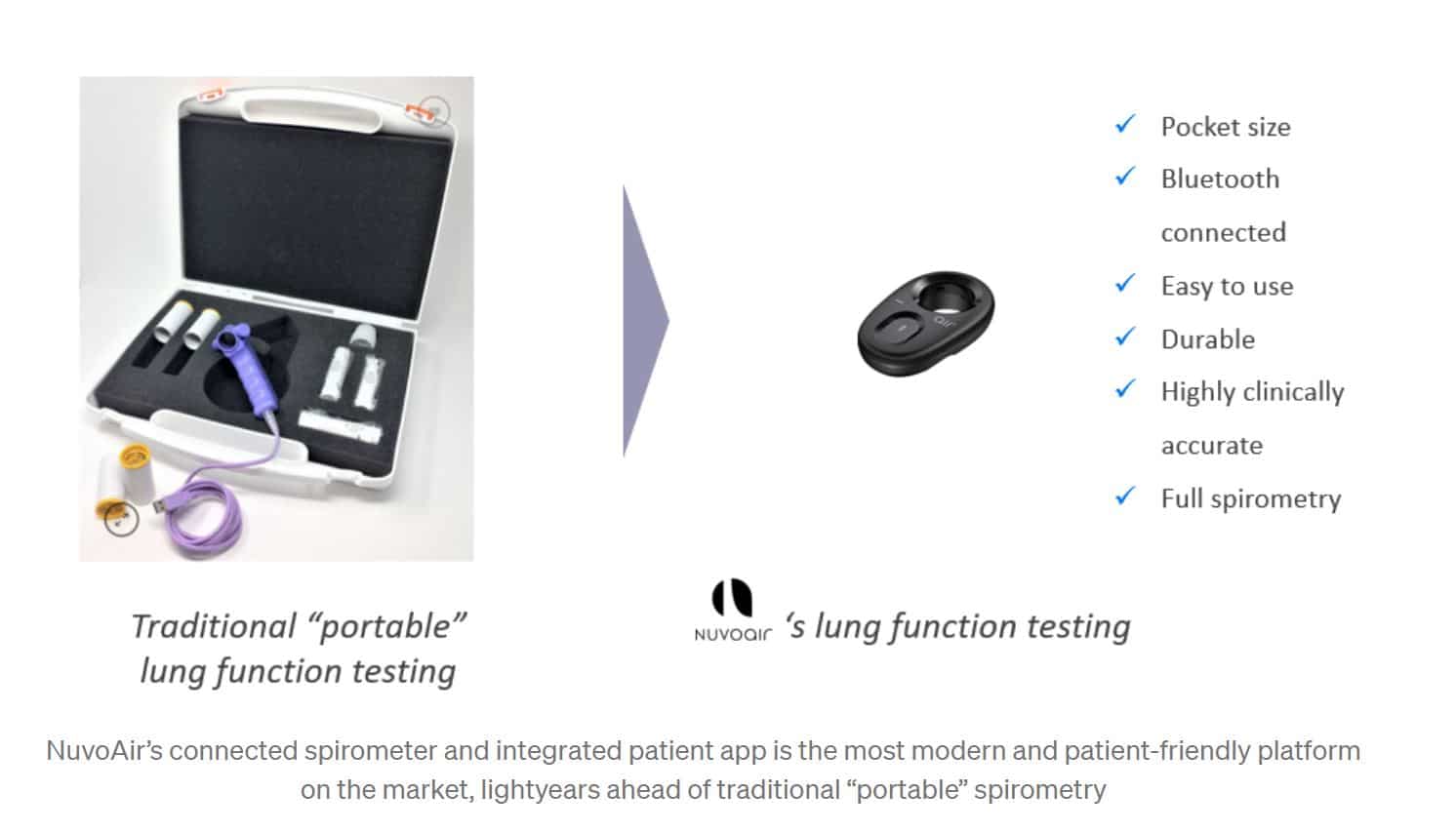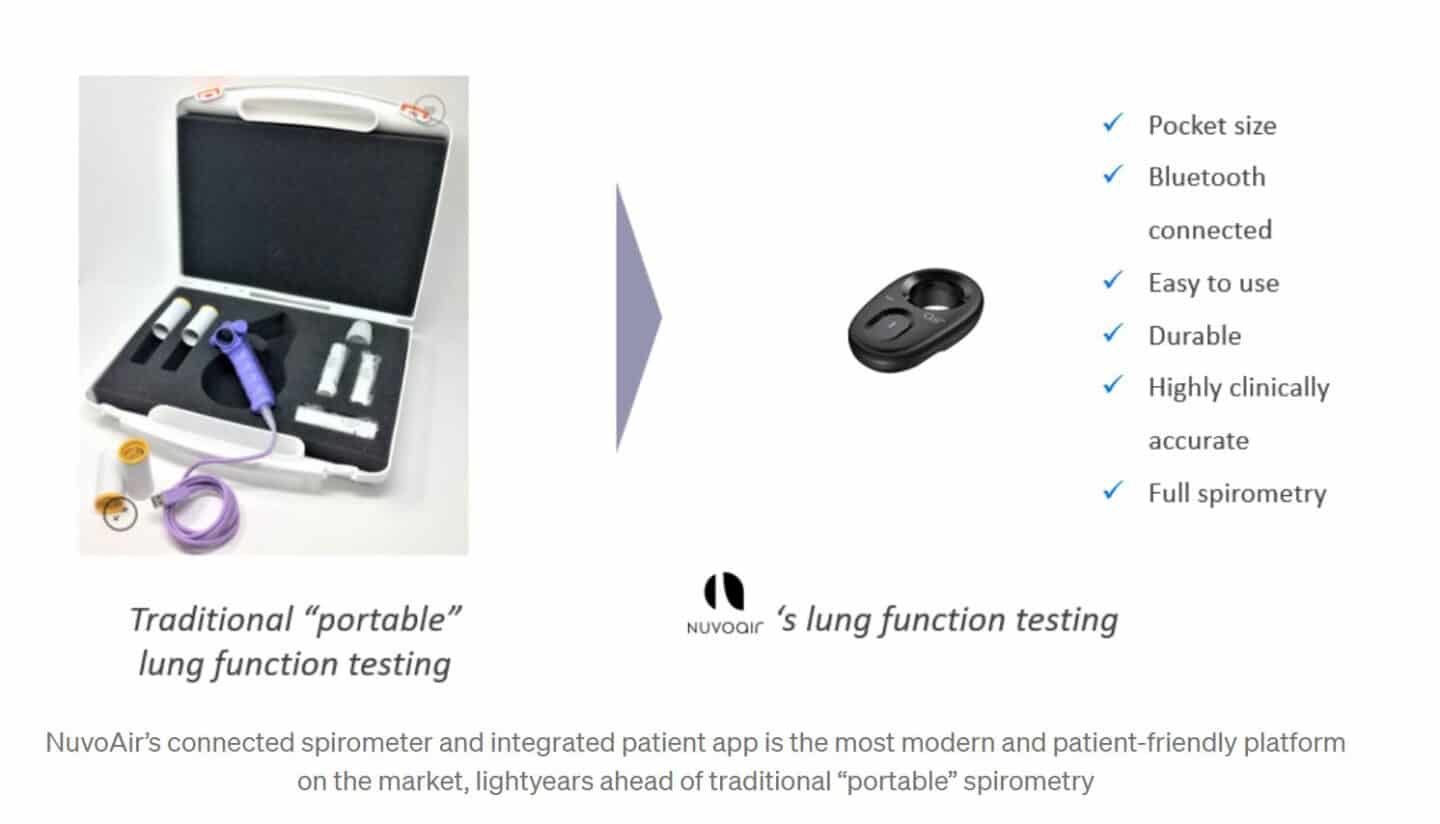 NuvoAir's connected spirometer and integrated patient app is the most modern and patient-friendly platform on the market, lightyears ahead of traditional "portable" spirometry
Meanwhile, NuvoAir's approach is clinically validated. NuvoAir's platform is FDA cleared, CE marked and supported by a growing body of clinical evidence and health economic research showing its efficacy. And studies have found that NuvoAir's platform reduces the need for urgent consultations by 39% by preventing acute events and allowing patients to manage their conditions from home. And NuvoAir's platform is so clinically robust that leading pharma companies like AstraZeneca and Regeneron are using it to measure the primary endpoints in their clinicial research.
Finally, the reason we are most excited to back NuvoAir is the vision of its founder, Lorenzo Consoli. In his career at Novartis, Lorenzo saw firsthand what was possible if we applied technology thoughtfully to healthcare delivery, and he has a deep understanding of navigating the complex healthcare ecosystem. Above all, Lorenzo believes in putting the patient experience first — a critical north star for a digital health entrepreneur. Impressed by his commitment to excellence and to the patients, we are proud to back Lorenzo, his team, and his vision for NuvoAir.
We're pleased to lead NuvoAir's $12m Series A fundraising alongside KAYA VC and Amino Collective and existing investors Industrifonden, Spiltan, and Novartis. We look forward to supporting NuvoAir's mission as they build the next generation of healthcare and improve the lives of millions of patients living with chronic respiratory conditions.
NuvoAir is the third digital care company addressing chronic conditions that AlbionVC has backed, alongside Healios and Oviva. We look to invest in the most exciting digital health companies in Europe. If you're leading the way in this space, please reach out us!
Related content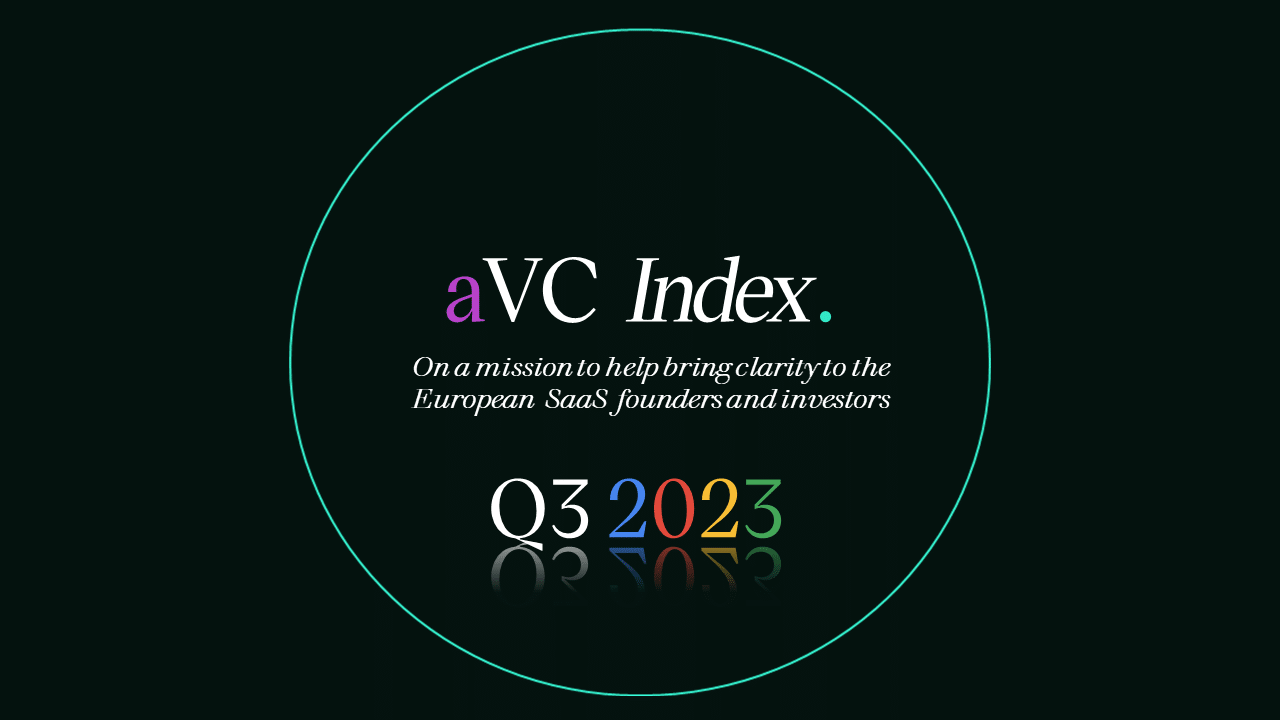 The state of early-stage European VC in Q3 2023
Read the article >
Top 10 mistakes founders make when pitching
What are the top ten mistakes founders make when pitching?
Read the article >