Why we invested in WeGift?
Perspective, by Paul Lehair
How many times were you offered a gift card by a corporate/employer/friend [insert any use case here]?
I would guess plenty of times and yet, if you are like me before I met WeGift, you probably ignore the massive scale of this market (still mainly offline) and the inefficiencies of its existing infrastructure. Let's dive in.
Gigantic invisible market
Every year over $620bn of gift cards are issued globally, with half of this value being purchased by corporates to reward or incentivise their employees or customers. This market is growing strongly and is expected to reach $1.9tn (not a typo, you read this right) by 2027. However, digital gift cards, the best experience for end users, only represent 25% of the market with the rest still being physical plastic cards.
Why is digital penetration so low? Because there is no simple way for corporates to easily issue and purchase digital gift cards from various brands and retailers. This requires negotiating commercial contracts, building technical integrations and still going through manual and time-consuming ordering, fulfilment (eg. receiving gift cards in csv formats!) and payments processes.
As Fred at Stride.VC explained when they led the previous round, it is a misunderstood industry with broken processes, poor technology and plenty of distrust between the players. The incumbents are brick and mortar companies that were built in the physical gift cards era and do not offer a good digital offering. The perfect recipe for a sector ripe for disruption.
Last but not least, the market numbers above don't even include use cases like incentive marketing and other adjacent verticals such as award points and travel vouchers. The total non-cash pay-outs market is already humongous and there is a strong opportunity to grow it even further with an easy-to-use automated solution.
Enters WeGift: the Stripe of digital incentives
WeGift is a B2B platform, cloud-based or via API, that enables corporates to easily issue programmable incentives that are automated, real-time, fractional, embeddable and personalised. Through a single API, which is simple and quick to integrate with (like Stripe), corporates can access +700 brands (eg. Amazon, John Lewis, Nike, Uber, Starbucks) globally (+30 countries currently). WeGift enables corporates to get discounts, no longer hold inventory, automate ordering, delivery and invoicing while providing a better experience for end consumers. It is taking on an antiquated industry, typically overlooked, and has created a unique digital offering through direct integrations with the retailer brands.
WeGift is essentially building the rails of the incentive economy. We are very excited by its vision of creating an alternative payments infrastructure that enables corporates to issue non-cash payouts to anyone. It already has a long list of clients (eg. Vodafone, E.On, Perkbox, Sodexo) using the platform for a variety of uses cases such as employee benefits or incentive marketing (customer acquisition, activation, retention, referral) and the additional applications could be endless. If you are a CMO at a corporate selling to consumers you should contact them!
At the confluence of key trends
What we also loved about WeGift is that it plays into various trends, which we particularly like at AlbionVC:
Digitalisation: WeGift fosters and benefits from the digitalisation of a sector still largely analogue and offline, which is being accelerated by Covid.
API economy: WeGift's fast and scalable API automates the ordering in real-time, offering a better user experience and driving usage.
B2B marketplace: WeGift is a complex tripartite marketplace that cracked the typical chicken-and-egg challenge of building supply (retailers/brands and their gift cards payments processors) and demand (corporates). It benefits from network effects as more suppliers and corporates join its platform.
The Rockstar team behind it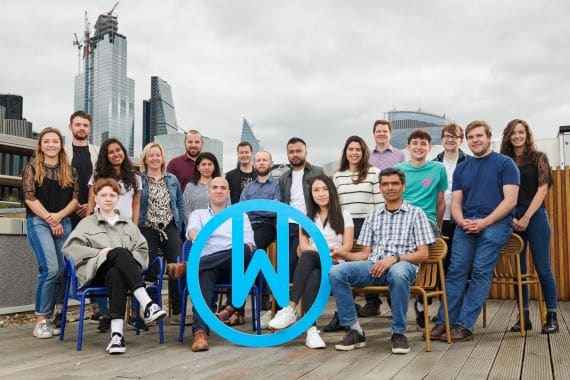 Aron Alexander got the idea behind WeGift after receiving a paper voucher in the post, which remained on his wall for 4 years! He has been on a mission since then and we have been impressed by his clear vision, tenacity, ambition and commitment. When Harry at Stride.VC introduced us he said: "Never thought I would find someone as obsessed with their job as me, until I met Aron!".
Aron has assembled a stellar team around him including Etai Rosen (CRO), Vaughn McKenzie-Landell (CPO) and Julie Oey (FD). We were not surprised to see that WeGift was recently ranked #6 in this list of top London startups to work for. And yes, they are currently recruiting for a few roles.
We like the strong sense of purpose of the team who has a vision of open access to the global economy without banks, borders, barriers or boundaries. It matters because 40% of the world still don't have full access to the banking system. "Imagine sending and receiving money is as easy as sending and receiving an email. Where value is available to everyone, everywhere."
We are super excited to be leading WeGift's last financing round to take on this huge opportunity and look forward to working together in the years to come.
Related content
5 main stories in European healthtech | Pigeon podcast
Molly Gilmartin, investor AlbionVC reflects on the week's biggest stories
Read the article >
Five healthtech ideas VCs want you to pitch in 2023 | Sifted
Discover which sector within healthtech we are excited about
Read the article >