The state of European HealthTech in 2023
by Christoph Ruedig, Molly Gilmartin
…European healthtech funding is back to historic levels, with AI driving a new wave of growth across digital care and digital pharma
This year AlbionVC duo Christoph Ruedig, Partner and Molly Gilmartin, Investor gave a keynote presentation at Frontiers Health conference in Rome on the state of the early-stage European healthcare market. Summary of their insights below.
Funding
The European Healthtech market is returning to historic growth levels with 2023 venture capital funding on par with the 2020 levels. The graph below shows funding raised by European healthtech startups by stage (Dealroom data).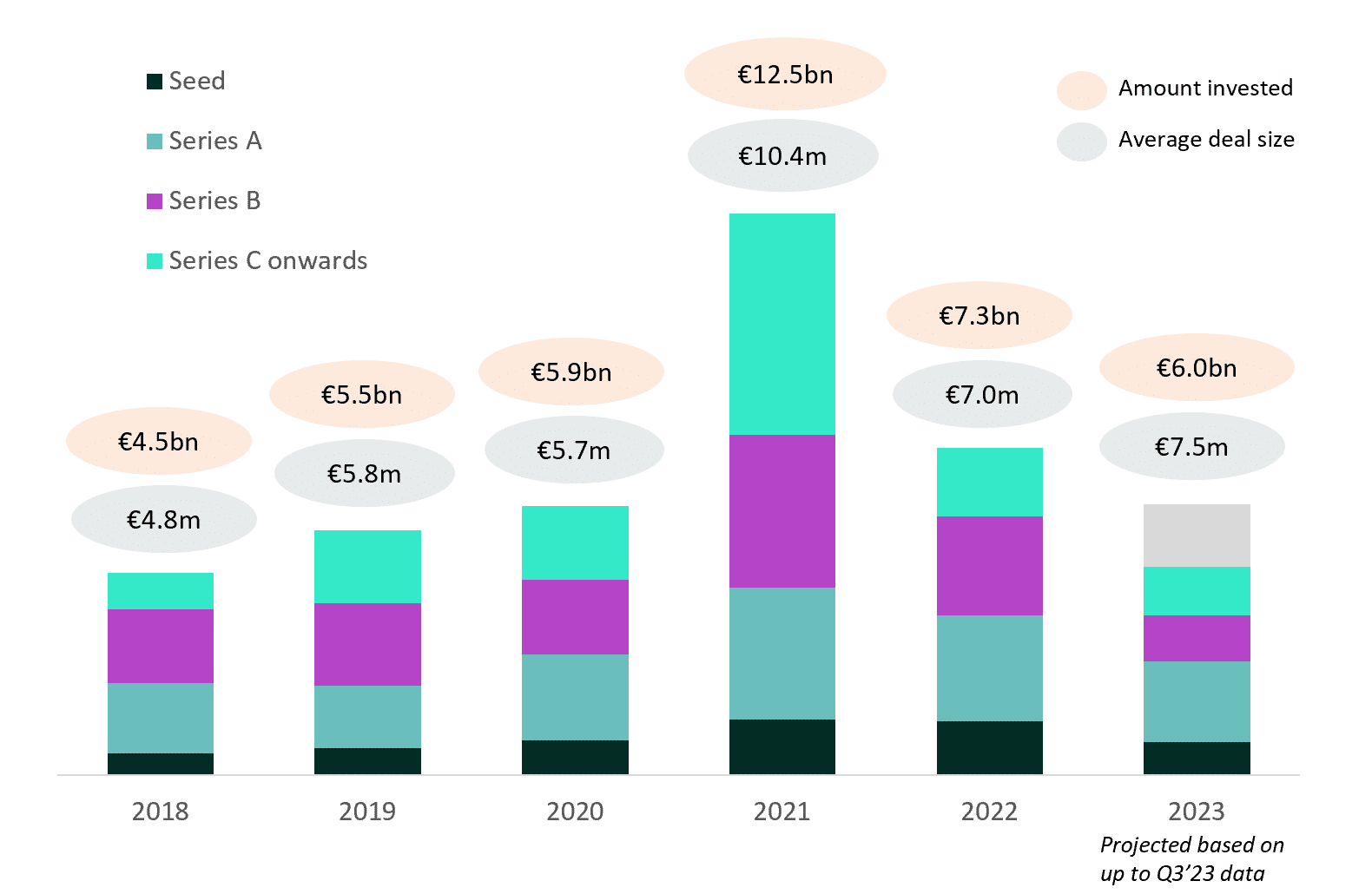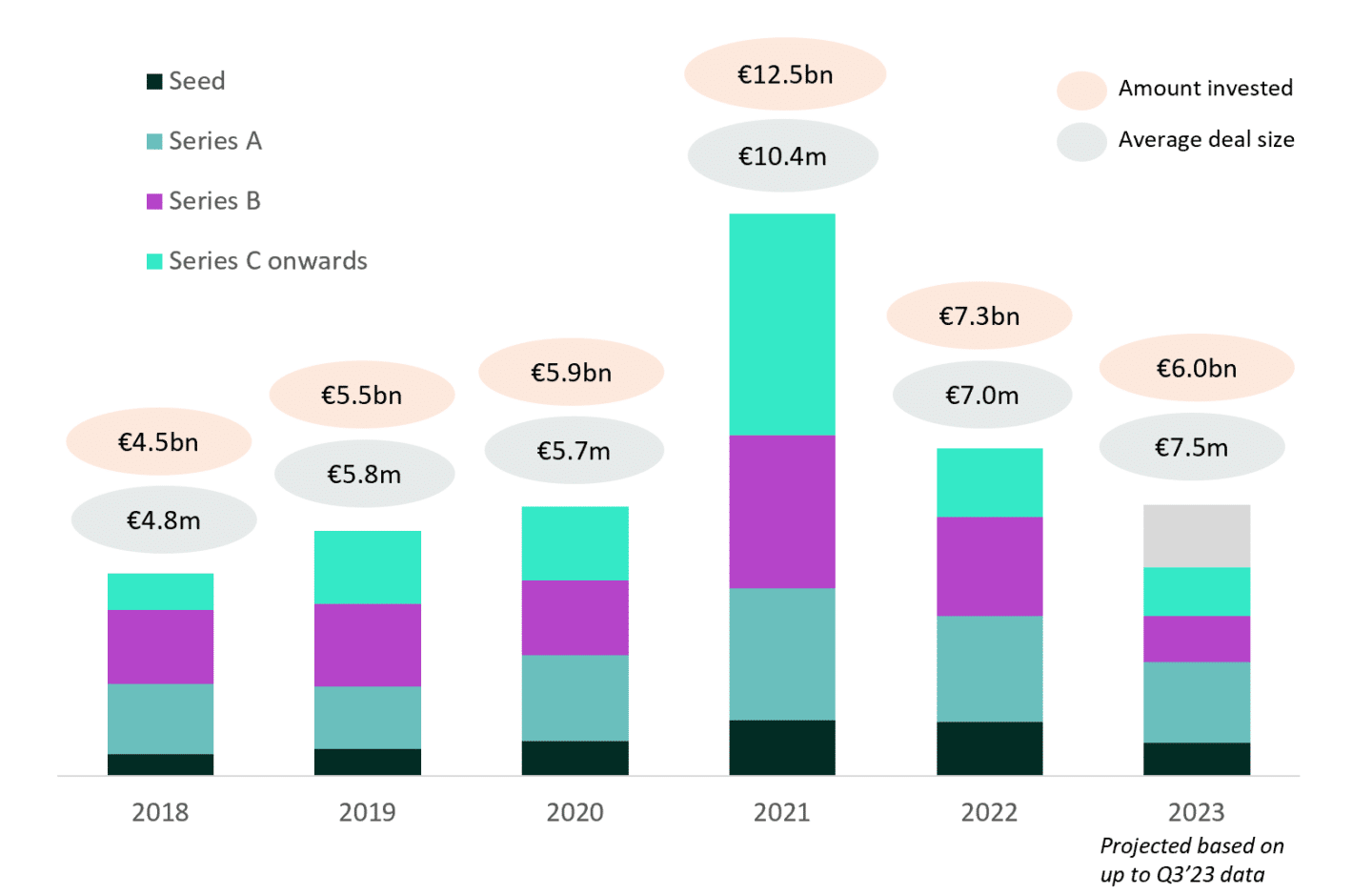 2021 was an outlier year for both the total amount of VC funding and the average deal size. 2023 investment rate is comparable to 2020 and higher than 2017-2019. If you view 2021 and 2022 as aberrations driven by the Covid-19 pandemic, the amount projected to be invested in 2023 (baed on Q3'23 YTD) is the same as 2020 thus funding remains strong by historic levels.
The data also suggests that whilst fewer seed companies are raising VC funding in 2023, those that secure funding end up with bigger round sizes than in 2020. The average seed round in 2023 was ~2x the average seed round in 2021, whilst Series A deal sizes have remained more consistent in both the number of deals and the average size of the round. We attribute this market dynamic to: (1) higher quality of companies – those raising today are more attractive, higher quality companies, and (2) large pools of capital raised by VC funds over the past few years are chasing fewer deals.
European landscape by market segment
The 2023 review of the healthcare ecosystem includes 998 European companies across digital pharma and digital care. The market map focused on companies founded in or after 2015, that raised institutional funding in the last 3 years, and have over 10 employees.
There has been a 37% growth in the number of digital care startups and a 50% growth in the number of digital pharma startups compared to the 2022 market map. Such active growth in the number of companies entering the market map criteria comes against a backdrop of a challenging macro environment. This is unsurprising as the drivers for company creation and pre-seed growth (e.g. talent, angel funding) are somewhat divorced from the capital markets. A notable market dynamic is an increase in the number of internal rounds, a trend we expect to continue into 2024.
What's hot:
Post COVID-19 levelling out, AI is driving growth in key segments. On the digital care side of the map, the top growth segment (based on the number of new companies) was the diagnostics and clinical decision support segment. That said >55% of these companies are at the seed stage and very few have moved outside their initial geography – likely due to the challenges in achieving integration into clinical workflow.
Moving over to the digital pharma, AI drug discovery companies have seen over 100% growth across the tech bio and synthetic bio segments. Interestingly, one third of these companies received funding in 2023 highlighting investor demand for these segments.
What is less hot:
On the digital care side, the B2C focused companies have struggled across symptoms checking, companion apps and wellness, likely due to the personal budget pressures. Workplace wellness has also become ever more saturated post the COVID-19 pandemic.
On the digital pharma side, patient recruitment has levelled out as the pharmaceutical industry has largely reverted back to the pre-pandemic behaviour in terms of patient engagement. A number of digital biomarker companies have also shifted across from digital pharma to the digital care side of the market map where they are focusing on CDS (clinical decision support) use cases, potentially a sign that product market fit has been hard to find for pharma use cases.
There is significant opportunity for European healthtech
It is important to recognise how nascent the European healthtech market is compared both to other industries and geographies:
<15% of US healthtech unicorns
<10% of European fintech unicorns
~5% of European enterprise software unicorns
The AlbionVC team remain excited by the level of ambition and innovation of European healthtech founders. Over €5 billion has been invested over the past 3 years in the companies within our 2023 market map demonstrating the opportunity for growth and maturation of the highest opportunity segments.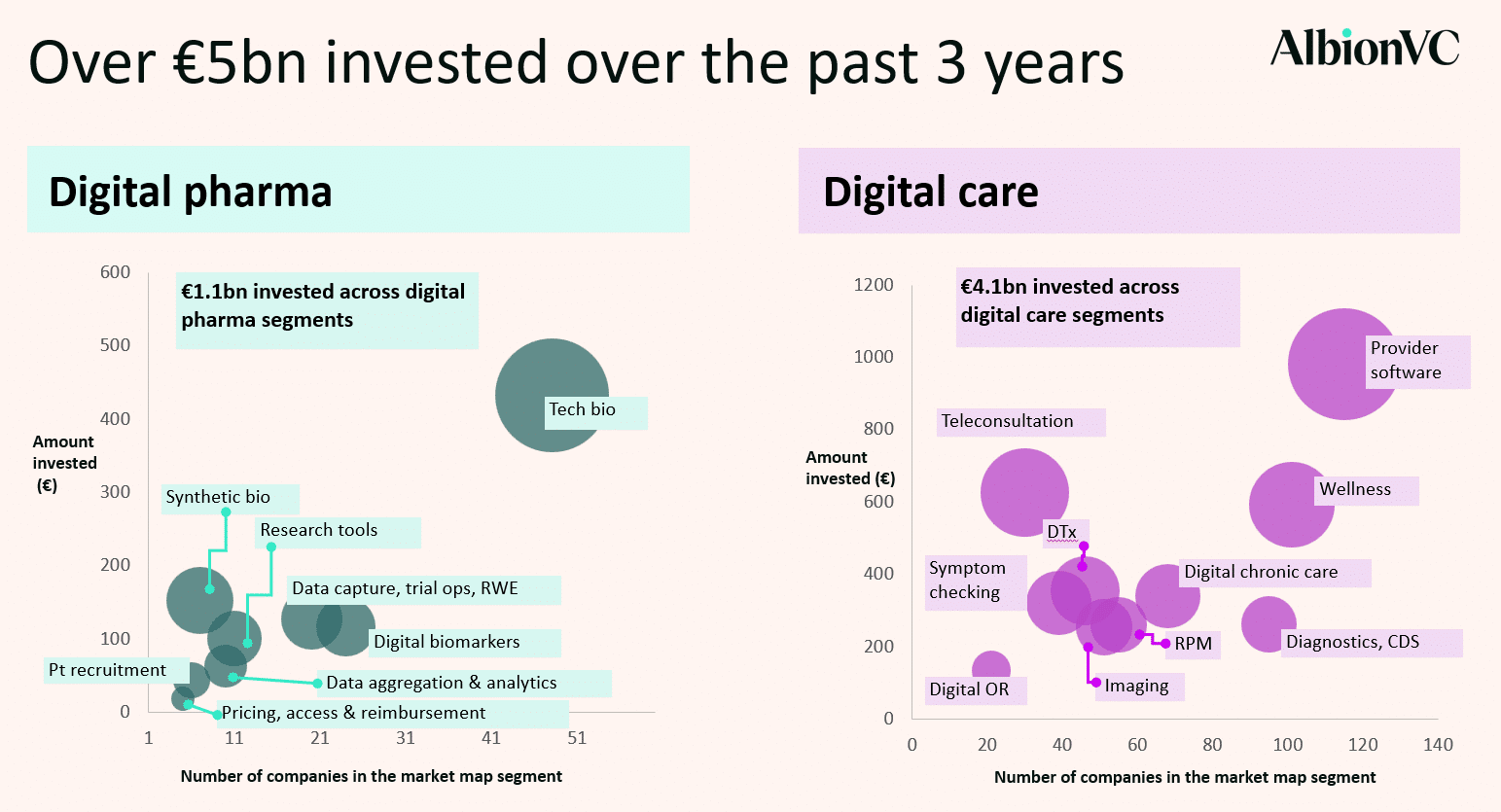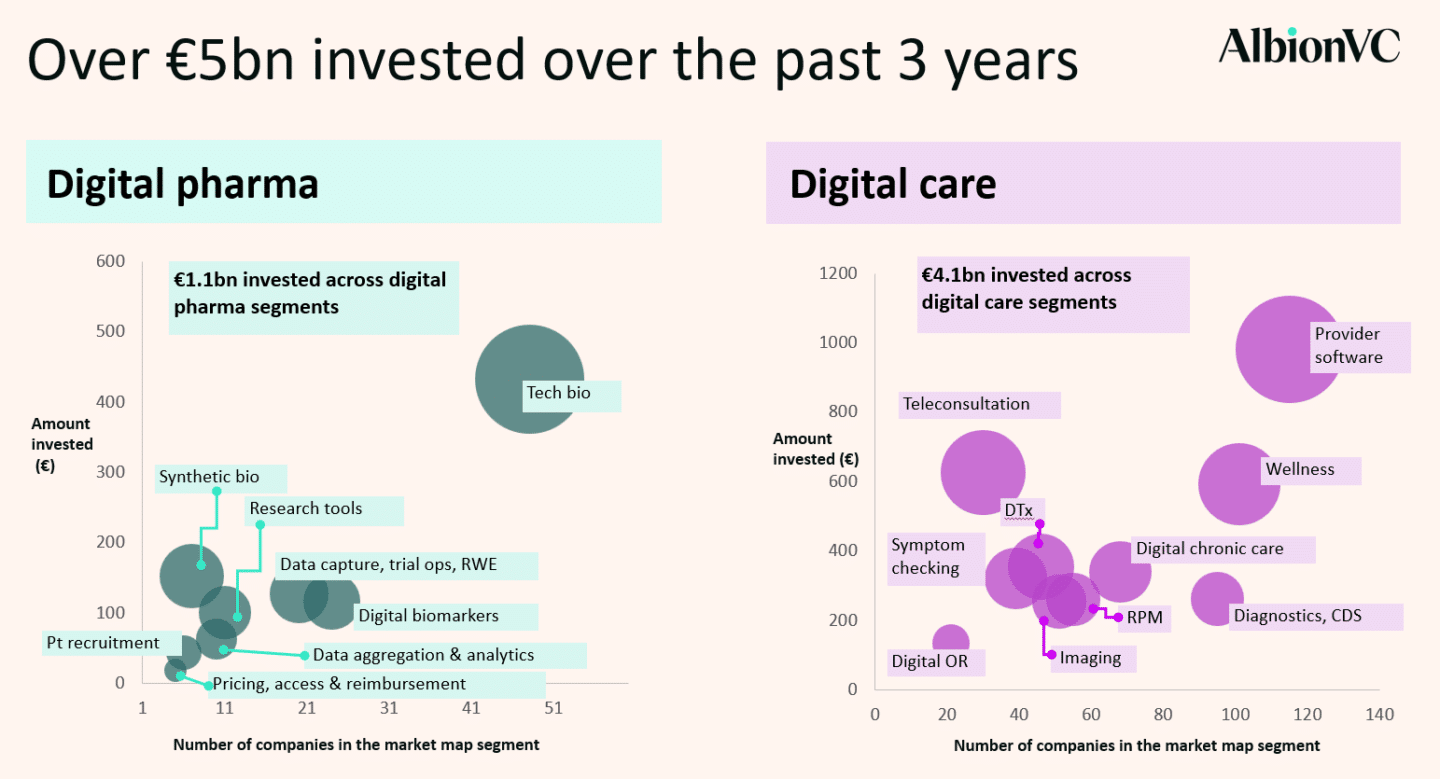 While 2024 is likely to see more internal rounds, with a tougher funding and scaling environment for many companies, AI is driving a new wave of innovation and break out companies in Europe.
View European HealthTech Market Map 2023