Why we invested in Peppy?
Perspective, by Molly Gilmartin
Personalised, free-to-employee, gender-based health support available to all
We are thrilled to be leading a $45m Series B investment in Peppy – the world leader in menopause and men's health benefits, as well as pioneering support for fertility, pregnancy and early parenthood.
A huge opportunity for impact – in women's health and the broader health and wellness space
We know that women and their families have been long underserved by existing healthcare systems. Peppy have shown how this extends to many other conditions and groups. They have successfully identified therapeutic areas where the modern workforce is unsupported during life's most important episodes: 1 in 3 of the global workforce is dealing with a health challenge across Peppy's therapeutic areas at any time.
Clear care pathways simply do not exist for areas like menopause, early parenthood and men's health – symptoms can be non-specific and complex, more research is needed to fully understand the conditions, and people are not always comfortable talking about these challenges particularly in the workplace. For example, nearly two thirds of women do not feel comfortable to talk about health issues in the workplace, and 39% of employers say men do not address health issues until they cause severe disruption. These challenging times can lead to people leaving their jobs, taking time off and being less productive and engaged – 59% of women take time off due to menopause symptoms and 1 in 10 women actually give up work because of them. Peppy's customers draw from both blue collar and white collar industries and provides access to personalised support for all genders, age and background, addressing the widespread but unmet need that remains underserved by the traditional healthcare systems.
Peppy started out focused on menopause – something every woman will go through. In fact, in the US, approximately 6,000 women reach menopause every single day. This funding round will fuel the expansion of Peppy's platform to the US enabling many of these women to access revolutionary, one-on-one support that they simply cannot access through traditional providers. HRT prescription, for example, is still deemed 'experimental therapy' by some mainstream US health insurance plans. Peppy hasn't stopped at menopause. The global leader in personalized healthcare now also supports endometriosis and polycystic ovary syndrome (PCOS), conditions that each affect roughly 1 in 10 women in the US. This is a huge financial opportunity (the menopause market alone was valued at $15.4bn in 2021) but also a huge opportunity for social impact for women globally.
B2Employer will thrive as the health and wellness delivery channel
In November, we published the 2022 HealthTech market map which demonstrated the huge increase in the workplace wellness segment where the employer is a business model for health tech companies. Best in class health and wellness benefits today are critical for attracting and retaining talent which is consequential given 60% of employers are facing challenges attracting and retaining female talent. Our research shows that across the broader benefits package, health and wellness benefits are the most protected in a recession and provide a mechanism for companies to remain competitive and improve retention rates where broader salary increases are not possible. As healthcare systems become increasingly capacity constrained, greater expectation will be placed by employees on their employer to provide health and wellness benefits as part of their compensation package.
Peppy currently supports more than 1.5 million people who love its service
It was very clear to us that Peppy has achieved product market fit both with the customers (the enterprise companies – the employer) and the users (the employees). This is the key secret sauce in health and wellness: building a product that users love and that customers will pay for. So many companies build amazing products that can't get that flywheel turning.
From the customer perspective, Peppy is the UK category leader: achieving 10x growth since its Series A and now trusted by over 250 enterprise businesses including Accenture, Adobe, Canada Life, Disney, and Marsh McLennan. The Benefits and HR Directors at these customer enterprise businesses have become huge Peppy advocates due to outstanding engagement levels and positive feedback within their organisations, supporting excellent retention from Peppy of these customers.
Perhaps even more importantly, the end users of the Peppy platform love the experience – the NPS (net promoter score) from end users is extraordinarily high and users clearly remain engaged over long time periods. The icing on the cake is that Peppy has a positive effect on patient outcomes with a reduction in menopause symptoms within a few months. So customers love it, users love it and healthcare outcomes are actually improved – win, win, win.
Mridula, Max and Evan are the heart of Peppy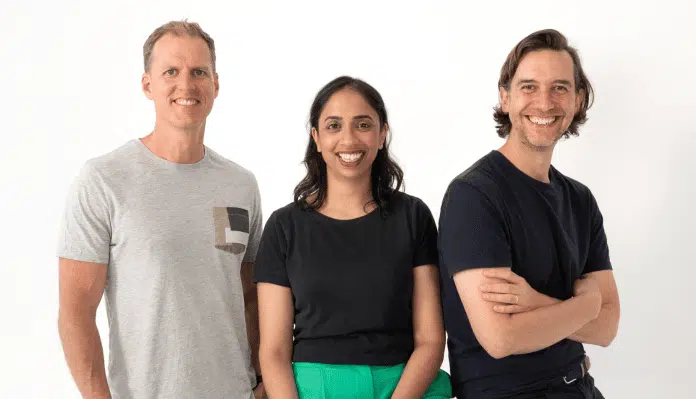 Entrepreneurs, technology, market opportunities, and capital are in abundance – great teams are in short supply. It is great teams that win; it takes incredibly teams to build great businesses.
Peppy is led by such a founding team with backgrounds in healthcare and clinical operations (e.g., Novartis, McKinsey, Capita, Department of Work and Pensions). We have known the team since the beginning, and they have demonstrated true scaling capability and have execute ahead of all expectations. They are the perfect founding triumvirate, blending a rare combination of skills. It's truly inspiring to work with these three and watch them revolutionise the delivery of a basic human requirement – healthcare. They are fastidious about hiring great teammates and attack the market with a laser focus and a razor-sharp value proposition. We can't wait to see where this team goes next.
The intersection of healthcare and B2B software is critical to solving some of the toughest challenges
For me, it has been fascinating for our B2B software and healthcare teams to work cross-functionally – bringing our know-how on what makes enterprise customers tick with our understanding of health technology to invest in the best company in this space. We are looking forward to working with Kathaka, MTech Capital, Simplyhealth, Sony Innovation Fund as well as the existing investors at Felix Capital, Hambro Perks, Outward VC and Seedcamp on Peppy's next phase of growth.
Related content
Oviva's app-based obesity and diabetes care prescribed to 500,000 patients
Oviva's app-based obesity and diabetes care prescribed to 500,000 patients
Read the article >
The state of European HealthTech in 2023
The state of European HealthTech in 2023
Read the article >